We are conveniently located in North Orange County, near
both the 57 and 91 freeways.
From the 91 Freeway: use exit 29 at Raymond Avenue/East
Street and proceed north about 2 blocks.
From the 57 Freeway: use exit 6 at Orangethorpe Avenue,
and proceed west about 1.5 miles.
We are also easily accessed by bus. There are bus stops on
both sides of Orangethorpe Avenue at Raymond Avenue. It
is a short walk from the bus stop to our offices.

~ Even though we have an Anaheim address on North
Raymond Avenue, our actual address does not compute
on the OCTD trip planning website. You will have to enter
the following address in the destination box: 1661 South
Raymond Avenue, Fullerton.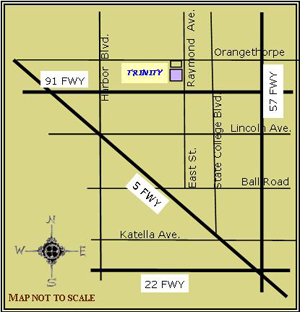 Trinity Counseling Center is located in Anaheim Crossroads,
a two-building complex on the southwest corner of Raymond
and Orangethorpe Avenues. We are in the building furthest
from the corner. Our building address is 1661 N. Raymond
Avenue, Anaheim, CA 92801.
Enter the courtyard through the double glass doors that face
Raymond Avenue. We are on the ground floor. Keep to the
left and look for the door labeled: Trinity Counseling Center,
Suite 140. Walk right in and you will be in our waiting
room. :-)